To further promote Chinese and Taoist culture, Mr Tan Thiam Lye BBM(L), president of the Taoist federation (Singapore), appealed for young Taoist devotees to join the Federation in the last issue of Taoist News magazine in 2005.
After a year of preparation, the youth group was formed by a group of young Taoists who are keen in Taoism. With the same mindset and vision, we begun our first footstep as the first Taoist youth group in Singapore and have worked our way up into recognitions for our efforts contributed in preserving our faiths.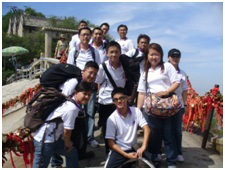 The five main objectives of the youth group were formalized.
OUR FIVE OBJECTIVES:
To promote Taoist Culture
To organize bonding activities
To develop youth Taoist Leaders
To promote religious harmony
To engage in community service
Over the years, our dynamic youth leaders had organized activities and events within and outside the Taoist community to promote and spread the knowledge of Taoism and the importance of inter-faiths to the members of the public. Today, our youth leaders have successfully reached out to the wider circle of the society to share about our faith and culture. We will continue to strive and make work hard in promoting our faiths.
At present Youth Group will continue to organize classes, such as Taoist basic understanding sharing, community outreach, overseas learning excursion, inter-faith dialog and many other exciting activities. We hope that temples can encourage their young followers, and parents to encourage their children to join us to learn more about our faith. Together, we can preserve and glorify our rich Taoist and Chinese Culture
Our Taoist youth management committee provides support, co-ordination and advice to the numbers of religious groups and organisation including our affiliation, Taoist Federation (Singapore).
Exco Committee for the 8th Term (2020 to 2022)
-Taoist Federation Singapore Youth Group
Chairman: Siew Shu Ping Sally
Secretary: Derek Tan
Vice Secretary: Ray Tan
Treasurer: Choo LiXuan Madeline
Liaison Officer: Ang Seng Yong
Andy Ong
Emeritus: Tan Chee Wee Aaron
Long Say Keng Adrian
Exco Member: William Wong Susan Wee Susan Tan Jenny Mok
Jeffrey Goh Calvin Tan Tong Yong How
Benjamin Tan Benjamin Goh